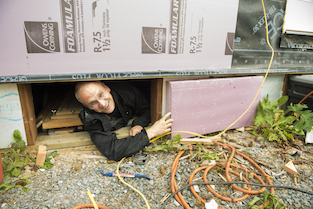 Cotter & Noson Consulting Services LLC
A training and building performance testing company serving residential, commercial, and military clients across Alaska.
---
Join us at the Energy Efficiency Now Conference
March 29-30, 2017
Captain Cook Hotel, Anchorage AK
Heat Pumps and DC Technology: Revolutions in Efficiency and Performance for all Alaska Climate Zones
Paul Cotter, Cotter and Noson Consulting
The Alaska heat pump experiment of the 1980s has been reborn a success! Heat pumps are penetrating all Alaska climate zones and have huge implications on performance, efficiency, and building simplicity and durability.  Part of their success is due to the DC revolution - changing the way we heat, ventilate, light, and control.  This seminar reviews what we know about heat pumps in Alaska and traces the tentacles of DC technology throughout our buildings.  Maybe Edison won after all!
Communication = Success
Petra Sattler-Smith, Lumen Design/Paul Cotter, Cotter and Noson Consulting 
Communication is the key to success.  When all parties communicate at the project's beginning, the likelihood of a successful project increases substantially.  This session will highlight the benefits of productive communication in project development and how it is critical to energy efficiency success.

---
2 Residential Endorsement CEUs per course, and just $75 per course! 
Contact us  if you have specific requests or suggestions for courses you would like to see on our schedule! 
---
Contact us for more information about our services:
Technical Training
Weatherization Consultation
Building Diagnostics
Energy Retrofit Consultation
Specialized Course Development and Delivery
---
 Recent clients:


Sitka Summer Music Festival

Millard and Associates/Alaska DHSS

RuralCAP

Bristol Bay Housing Authority

Alaska Building Science Network

Bristol Bay Housing Authority

Renewable Energy Alaska Project

University of Alaska Fairbanks

Alaska Housing Finance Corporation

University of Alaska Southeast

Tlingit-Haida Regional Housing Authority

Marquam George LLC 

Baranof Island Housing Authority

Contractors and building professionals

statewide...
---
Thank you for your attendance and support of our 2016 courses State-wide!
Anchorage                Cordova                        Dillingham
Fairbanks                  Homer                          Juneau
Ketchikan                  Kodiak                Petersburg
Mat-Su                      Sitka
---